Cabanas Apart Hotel
«Natal
«Natal Hotels
«Hotels in Ponta Negra
«Other hotels near Cabanas




Cabanas Apart Hotel
Address: Rua Engš Roberto Freire, 03 Ponta Negra
First parallel to the main beach street in Ponta Negra.
Natal/RN - Telefax: (84) 3236-2849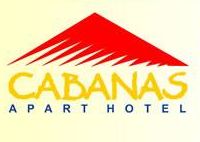 Mid priced hotel near the beach of Ponta Negra.

The name "cabanas" means Huts. The hotel is comprised by two large buildings which resemble two large huts.
In the first hut, there is the reception desk, the area of breakfast, a small lounge and, in a suspended floor, the games room. In the main hut, there are the ten large rooms.
Notice: the entrance of the hotel is very discrete; very little of the hotel can be seen from the street.

The hotel was built a long ago, when real estate in Ponta Negra was not outrageously expensive like it is today. Rooms are very large; despite the rustic atmosphere, every room has air conditioning, cable TV, a small fridge and a balcony.
Six of the ten rooms have a view to Morro do Careca; two rooms have a partial view; two rooms have a view to the neighbour house. Despite these differences in view, there was no difference in prices (so, try to get the rooms with front views). In October of 2006, we were charged R$ 100 for the room with no view; this is a big increase from the R$ 75 that had been quoted in our last survey. It looks like more and more people are finding this little advertised hotel, and the increase in demand is increasing prices; because there are only ten rooms, the place is often full.

The outdoors area is also very spatious. There are two swimming pools, for children and adults. There is plenty of green space for children to play. There is also a real hut, with tables for a picnic (the manager says that guests can borrow a hammock from the hotel and take a snap).

Breakfast is not good. Probably because there are few guests, there is not much variety. The day we stayed, the juice had finished. You can order scrambled eggs to the maid, but not much more than that.

The hotel is located mid-way between the beach and the heights of Ponta Negra. The line of free buses passes in front of the hotel. There is a small area for parking cars during the day, and a large garage should be used at night.

The hotel is good priced, and excellent for families with children.



Below, some photos of Cabanas Apart Hotel.

The first photo shows the reception hut. The other photos show the hut of the rooms, with two floors; all rooms have a balcony.

Breakfast and games room.

Viewing from the lower rooms with front view.

Photos of the rooms. Rooms are very large, with a double and a single bed. The shower is particularly good: big, plenty of water, non-electric, with independent valves for cold and hot water (this is very uncommon to find in Natal).
Back to Top