O Peixe
«Home
«Restaurants in Natal
«Fish and Seafood Restaurants in Natal





Av. Engenheiro Roberto Freire.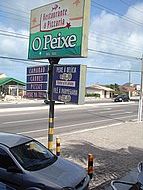 O Peixe.
The restaurant is located in the busy avenue Roberto Freire, next door to Only Pizza restaurant, almost next door to Hotel Ponta Negra, and at walking distance from several other hotels in Ponta Negra (see this map); most other restaurants in the area are considerably more expensive.

The name means "The Fish". The menu is well diversified, including shrimp, chicken, pasta, beef and more.
Neither the restaurant nor the dishes are sofisticated. The restaurant proposal is to serve good, traditional food at honest prices. Prices range from R$ 20 to R$ 30 (shrimp is a bit more expensive), enough for two people (all prices shown at this page were quoted in September 2006). The most traditional dishes, however, are offered at a discount price (see below).


Other dishes are available, but the house is called The Fish for a reason. In the first photo, some options of the menu: fish with shrimp sauce, original price R$ 28.90, discount price R$ 23.90; peixada, R$ 27.90; delicious fish (fish with white sauce), R$ 22.80; grilled fish, R$ 24.80; fish belle meuniere, R$ 28.90; all serving two people.
We ordered Peixada: fish stewed with vegetables (onion, potato, tomato), garnished with white rice and pirão (see a large photo here). This dish, made with basic ingredients only, is one of the most traditional of the northeastern Brazilian coast (read: prepared in Brazilian homes, long before being prepared in restaurants). The thick pirão and the thin fish sauce go very well together.
Photos of the facade (the restaurant has a very convenient parking loot), the tables, and some of the promotional prices. Promotional dishes were Shrimp a la Greek (skewed shrimps, covered with melted cheese), chicken parmegiana (fried chicken, covered with tomato sauce and melted cheese) and fish with shrimp sauce.
This restaurant has a touch of home made food. If you are looking for shrimp with an international cuisine touch, and price is not an issue, check out Camarões, which is just one block away from O Peixe.
Check out also other restaurants in Natal specialized in Fish and Seafood.

Back to Top