Beach Tours
«Back to Home
«Hotels in Natal
«Entertainment in Natal
«Beaches Guide





One of the most popular tourist programs in Natal is taking a tour along the coast with a buggy or a 4 wheel drive vehicle; read more about the buggy.
There are several tour operators offering this kind of service; the larger hotels usually offer the service or have connections with an operator; at smaller hotels, the staff has contacts with agencies or buggy drivers.

Agencies are usually flexible as to extension of the tour. A standard package is offered, but it is possible, for additional fees, to extend the tour or to include other attractions (like, for example, a boat trip or a diving tour).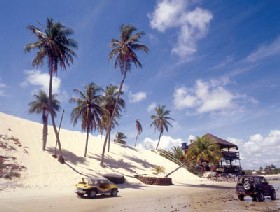 A buggy fits four people. Agencies charge a price per seat; in early 2005, prices were around R$ 60 (or US$ 25) per seat; itīs possible (and encouraged by the agencies) to hire the entire buggy (paying for all four seats); all expenses associated with the tour are covered (for example: fuel, driverīs meals, taxes, fees to enter parks, boat fees to get across rivers); extra expenses (passengerīs meals, diving tours) are paid by clients.

Usually, the agreement is on the extension of the tours, not on the time it takes. Tourists may choose, for example, to stay longer at a certain beach or place. A typical tour leaves from Natal at 9am and returns around 3pm.

Below, a description of the standard tours.

»Northern Beach Tours Redinha, Jenipabu, Jacumã, Pitangui, Maracajaú...

»Southern Beach Tours Cotovelo, Pirangi, Búzios, Pipa...

»Dunes of Genipabu Tours "with or without emotion"




Back to Top


visitors since April 5th 2005