Venezia Flat
«Natal
«Natal Hotels
«Hotels in Ponta Negra
«Other hotels near Venezia Flat




Venezia Flat
Address: Av. Engenheiro Roberto Freire, 3153, Ponta Negra
(uphill from Ponta Negra beach; the hill is steep)
Natal/RN - Brasil - Cep 59090 - 000
Tel:(84) 4006 6333 - Fax:(84) 4006 6310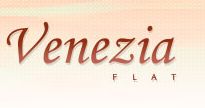 Venezia flat is new, opened in 2005.
Notice that the flat occupies two buildings, separated by a street. In the main building, there are flats: small apartments with room, bathroom and kitchen; in the building across the street, there are hotel rooms.
Notice that there is a BIG difference between prices of flats and rooms. In September 2006, we paid R$ 50 for a room, whereas the flat was R$ 160. All furniture is brand new; the air conditioning uses split equipment (very quiet), rare to find in hotels of Natal. The hotel offers free internet connection for notebook owners (there is a plug in every room).
The flat has breakfast included in the price, while room guests have to pay extra R$ 10 per person. We ordered breakfast for one, and were pleased to see that not only was it big enough for two, but also that the quality was surprisingly good. To order breakfast, the hotel provides you with a list of 22 items, of which guests can choose up to 11.

Both buildings have a small swimming pool, with a panoramic view or Ponta Negra. For parking, there are two slots in front of the main building, and a large garage beside the secondary building.
Venezia is within a short distance from Altos de Ponta Negra. Going downtown is easy, as the bus stop is right in front of the hotel.

Paying R$ 50 for the rooms is a bargain. Paying R$ 160 for the flats seems expensive.



Below, some photos of Venezia Flat.

The last photo shows the reception desk in the main building. All other photos were taken from the secondary building, and picture the main building. The swimming pool area afford a good panoramic view of Ponta Negra; the photo also gives an idea of how steep the hill is.

Back to Top