Hotel Inga
«Natal
«Natal Hotels
«Hotels in Ponta Negra
«Other hotels near Inga




Ingá Praia Hotel
Address: Av. Erivan França, 17 - Ponta Negra - Natal/RN
(this is the street by the beach in Ponta Negra)
Tel:(84) 3219 - 3436 - Fax:(84) 3219 - 4431 - Cep: 59.090-100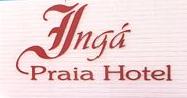 Mid priced hotel by the beach of Ponta Negra.

Ingá is located right in the middle of the busiest area of Ponta Negra beach.
The facade was repainted and the rooms were refurbished a few years ago; inside, the worn out stairs and the aged furniture reveal that the building is a bit old.
The hotel has rooms with a front sea view (fewer), with lateral view and without view; rooms with front view are about 10% more expensive. We paid R$ 90 in September of 2006 (low season) for a frontal room (price was R$ 100, with a discount for paying cash); check out prices of hotels in Natal. The room was very large, with a large verandah overlooking the beach and the small swimming pool.
The pool is located on the second floor, with an excellent view of the street. The pools is small, barely enough for three people. However, both the pool and the verandah of the front rooms provide an excellent view of the beach.
The hotel has no other amenities (no playground, no fitting room, no sauna). There is a small parking area (four slots only) in front of the hotel.

The breakfast is not impressive (below average, compared to other hotels in Ponta Negra); little more than cheese, ham, bread, a few fruits, juices and cakes; you can ask the maiden to prepare scrambled eggs. The breakfast room is in the first floor; if you arrive early and secure a good table, you can have your coffee looking at the beach.
Getting to Ponta Negra beach is easy (just cross the street), but going elsewhere is a bit difficult, because buses are forbidden from running along the street. Hint: take advantage of the free buses maintained by the shopping centers; these buses run along the first street parallel to the beach (staff should know about the time schedule).



Below, some photos of Ingá Praia Hotel.

First row shows the facade and reception desk.
Second row shows breakfast and the view from the breakfast room.
Third row shows bedrooms and the view from the verandah in the third floor.
Last row shows swimming pool area, in the second floor of the hotel.

Back to Top