Churrascaria Tererê - rodízio of churrasco
«Home
«Restaurants in Natal






Address: Avenida Deputado Antônio Florêncio de Queiroz, Rota do Sol, Ponta Negra.
Phone: 3219-6520. Capacity: 180 seats.
Opening hours: 11h30/16h and 18h30/23h30 (Tue - Thu); and 11h30/23h30 (Fri - Sun and holidays).
Established in 1994.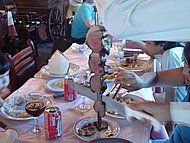 This is picanha,
a favorite cut
among Brazilians.
Tererê was appointed by Veja magazine as the best meat restaurant in Natal. We agree with Veja.
The name Tererê is a reference to a special kind of chimarrão, a kind of tea appreciated in the State of Rio Grande do Sul, which claims (rightfully so) to have the best churrasco in Brazil.

Tererê is located in Rota do Sol, on the road which leads to the southern coast of Rio Grande do Norte.
The restaurant works in the same manner as other rodízios: customers remain seated and waiters go about carrying different kinds of meat; to customers who want, the waiters will cut a piece or slice of meat; customers can eat as much as they like; there is a cold table with salads and appetizers in the middle of the saloon, also included in the price. Drinks and desserts are paid separately.

What makes Tererê better than the others?
First, the comfort. The restaurant has air conditioner (keeps customers and waiters from sweating), the large parking lot has driving valets.
Next, the service. There are more waiters than in other restaurants in Natal, and they are better trained and prepared to satisfy customers (few, if any, speak English though). If you want more of a particular kind of meat, ask a waiter and someone will soon bring it.
And, more important, the food. Tererê claims to serve eighteen different varieties of meat, including buffalo and wild boar; they have also some sushi and pasta.

In July 2006, price was R$ 26.90 per person; children aged 3 to 10 pay half fare. Notice, however, that prices can go up during the high season, or there may be some promotion.

Below, some photos of Tererê.


The photo to the left shows the outside of Tererê; notice the image of a tucan-like character.
The other photos show the restaurant saloon and the saladas buffet.
Photos showing waiters going about serving the meat.



Read also: Pantanal is another option for rodízio in Natal; Pantanal is of lower standards, but cheaper.

See other restaurants serving Brazilian food in Natal.

Back to Top