Mina D'Água
«Home
«Restaurants in Natal
«Brazilian food restaurants






Address: Av. Campos Sales,622, Petrópolis, Natal. Phone: 3222 4710.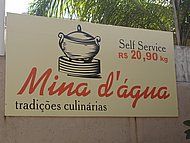 Mina D'Água.
Culinary Traditions.
Self-service, R$20.90/kg.
This restaurant is specialized in "cozinha mineira", the cuisine of the State of Minas Gerais.
Minas Gerais is a State with an old, rich culture (in the early 1700s, gold and other minerals were found in the State; the mines, besides giving the State a name, attracted hordes of settlers, who started to form their own culture), very conservative (most of population is Catholic and live in the countryside) and doesn't have a coast line (there is no fish in the cuisine of Minas).
Restaurants from Minas prepare dishes in the old traditional way and have a country side aspect.

There are not many restaurants of Minas in Natal, but even if there were, it would be hard to find one better than Mina D'Água.
Mina D'Água serves all the typical dishes, prepared according to the best mineiro practices; the restaurant is self-service, price is by the kilo (in Nov. 2006, price was R$ 20.90 per kg).

Below, some photos of the Restaurant Mina D'Água.


Photos of the outside (a house was refurbished and turned into the restaurant) and the inside of Minas D'Água. The photo to the right shows the salad buffet.
The hot meal is maintained in large clay pots, kept warm by an underneath flame. The photo to the right shows a typical plate: mineiro rice (rice cooked with sausage), tutu de feijão (the larger portion, in brown; probably the most typical dish of Minas; beans are first cooked then smashed with flour), collard and pork ribs; sprinkle some lemmon and add a little bit of spicy pepper.
The cook is genuinely from Minas, as his strong accent reveals.
Minas is also famous for its sweets, made mostly with fruits; there is a table full of sweets.
Notice also that the decoration was made utilizing several utensils typical from the countryside in Minas Gerais.
See other restaurants serving other kinds of Brazilian cuisine.

Back to Top