Dunnas Shopping Self-Service restaurants
«Home
«Restaurants in Natal
«Brazilian food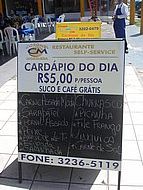 Menu of the Day - R$5
Free Juice and Coffee
This particular day, there was:
churrasco, picanha, fish,
chicken, feijoada, carne de sol,
sausage and more.
Warning: price now is R$6.
Dunnas shopping is located about 500 meters from the Praia Shopping, in Ponta Negra; it is just one block down the road from the Banco do Brasil branch in Ponta Negra.
There are only about 20 small shops in the place, distributed in two two-floor corridors which surround a large central area (among the shops, there is a travel agency, a small real estate office and a sex shop).
In the central area, there are two self-service restaurants, frequented mostly by people who work or live in the area, or by occasional visitors of the banks.

Both restaurants operate in similar manners: there is a good variety of salads, pasta, rice, beans, potatoes, etc; everyday, there are about ten different kinds of meat (beef, fish, chicken, etc); clients grab a plate and help themselves with the garnishments, as much as they like; you can help yourself with as much as it fits in the plate, and use a smaller plate for desserts; the meat is limited: clients can choose up to three different varieties of meat, and the staff serves the helping.
Clients take a seat on any free table; there is a juice of the day for free, but often the waiter must be reminded; coke, if ordered, is paid separately. After you finish, go back to the restaurant and pay the bill.

There are not significant differences between the restaurants; it may happen that one is serving fried fish, while the other is serving stewed fish. You can take a look at the options before entering the queue.
Both places are very busy during the working days, and are closed on weekends.
The customers are attracted by the fair price (it used to be R$5 when we visited it, but since then the price raised to R$6) and the seemingly good taste and quality.
For foreign visitors, it is a good and affordable opportunity to see what popular Brazilian food is like.

Below, some commented photos of these popular restaurants in Ponta Negra.


Both restaurants offer similar, but different, daily menus.
There is a good variety of salads and meat. Customers help themselves, but the meat is served by the staff.
The photo to the left shows a general view of the restaurants, and how busy they get. The other photos show a complete meal, including a passion-fruit juice.
See other restaurants offering Brazilian cuisine in Natal.

Back to Top