Ponta Negra Handicraft Market
«Back to Home
«Back to Shopping
«Back to Handicraft Shopping





WARNING: THIS PLACE WAS CLOSED IN 2006. THE BUILDING WAS DEMOLISHED, AND A NEW HOTEL IS BEING BUILT IN THE PLACE. This page is kept online for Historic reasons only.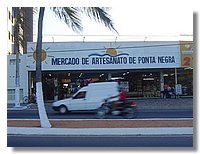 Front Entrance
Avenida Roberto Freire
The name in Portuguese is Mercado de Artesanato de Ponta Negra. This market is located at Avenida Roberto Freire, between the Granada Flat and the restaurant Camarões.
There is also a back entry, at avenida Praia de Ponta Negra; this square is a pick up and drop out point of buses of a few tour operators; there is plenty of space for parking cars here.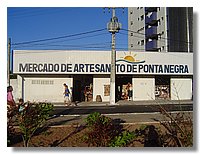 Back Entrance
This Market is probably one of the best places to shop for craftworks and souvenir. There is a high variety of products; for example, you can find here cashew nuts, cachaça, Brazilian condiments, t-shirts, hammocks, as well as a large variety of pieces made with diverse crafts, such as clay pieces, wooden, object miniatures, sculptures in objects, etc.
The place is simple (a large loft), the stands are simple; the prices seem to be a little lower than elsewhere. Prices mentioned below are approximated, quoted in early 2006.





A stand in the market




Havaianas sandals
From R$ 10 to R$ 30




Towels
From R$ 20 to R$ 40




Cups with Brazil flag
A few R$ each




Ships inside bottles
R$ 10




Crafted Miniature Ships
R$ 60




Carrancas (keep bad karma away)
R$ 55




Indian pieces: made by the Marajoara tribe, the most advanced of Brazilian indians




More Marajoara clay work
Prices from R$ 20 to R$ 70



Brazil Jersey
R$ 25




Marajoara pieces
From R$ 20 up




Bottles with colorful sand
Price: 7 pieces, R$ 5




Brazilian cachaça
Several prices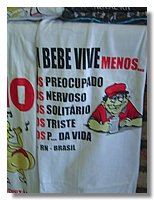 Those who drink live less.

Less preoccupied.
Less nervous.
Less solitaire.
Less sad.
Less pissed off with life.

There are a few other Joke t-shirts like this.


Back to Top