New York Times article about Natal, Brazil
«Back to Home
«Natal News





Original article was published here: New York Times and Brazilian seaside resort cities; as it may be necessary to register for access, a full transcription of the article is published below.




Slowing the Pace Along the Coast
By LARRY ROHTER
Published: February 20, 2005

FOR most Americans, accustomed to thinking of Rio de Janeiro as their first and only destination, Brazil's vast northeast shoulder is largely uncharted territory. While Europeans have in recent years begun flocking to the region's spectacular beaches and fallen under the spell of its infectious music, American visitors have lagged far behind in exploring the many delights that seaside resort cities such as Recife, Natal and Fortaleza can offer, all at a fraction of what comparable packages in the Caribbean would cost.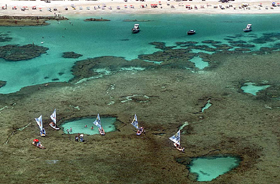 Though the high season runs from December to March, the northeast is sunny and dry the year round, which makes it ideal for a lazy beach holiday at any time. And at night, cities like Recife, hugging the coast 1,250 miles north of Rio, come alive to the beat of a type of music known as forró, an accordion-driven folk-based style Brazilians once derided as ''music for maids and taxi drivers'' but now all the rage among young cognoscenti.

North and south of Recife, it is easy to find quieter, more relaxed places that respond to that basic human desire to indulge in doing absolutely nothing every now and then. Itamaracá, for example, is a sleepy island 30 miles north of Recife with a magnificently calm and sheltered beach in the shadow of Fort Orange, built by the Dutch in 1631. It's definitely an off-the-beaten-track place, but the Orange Praia Hotel there, (55-81) 3544-1170, with double rooms for $50, offers comfort if not quite luxury.

To the south, a personal favorite is São José da Coroa Grande, a village where fishermen still ply their trade on wind-driven rafts called jangadas and the Southern Cross shines brightly at night. But the most popular getaway destination in the region is clearly Porto de Galinhas, which now has several all-inclusive resort hotels, among them the Summerville Beach Resort and the Nannai Beach Resort, a first-rate restaurant specializing in regional cuisine called Beijupira and miles and miles of sandy beaches with warm, crystal-clear water.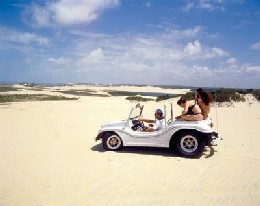 The destination that has really taken off in the past few years, however, is Natal, a city of 700,000 that is nearly the easternmost point in the Americas. The site of a United States military base during World War II, which left a fondness for Americans that lingers even today, Natal also claims to be the place where forró was invented and has plenty of clubs around Praça Almirante Soares Dutra Bezerra.

Natal has the usual alluring white-sand beaches, but is probably known for its dunes, which can be explored in rented sand buggies. Many of the growing number of comfortable resort hotels along the Praia da Ponta Negra and Praia da Barreira d'Agua (NOTE: this beach is better known as Praia da Via Costeira) beaches south of town can also arrange sand-dune or even diving and deep-sea fishing excursions. The five-star Pestana Natal and Ocean Palace hotels both have doubles for about $185 and $150 respectively, but perfectly good lodgings can also be found for as little as $45.

One interesting new offering aimed at more adventurous travelers is a four-day, 500-mile expedition by Jeep along the coastline from Natal to Fortaleza (about $400, including lodging and meals). The trip stops at towering dunes and once-quaint towns like Canoa Quebrada, a former fishing village turned hippie haven that has become so exuberant a beach and water-sports center that its main drag is known as Broadway.

Of course Fortaleza itself, population two million, offers a much greater variety of attractions and has emerged as one of the favorite destinations of European tourists to Brazil. As a result, several five-star hotels now operate along the beach, including the Caesar Park and the Blue Tree Towers, and sophisticated restaurants serving Portuguese and especially French cuisine have sprung up, as has a bustling Disneyesque complex known as Beach Park, with 17 water rides, a hotel and a giant pool that mimics ocean waves.

During the day, one relaxing place to spend time is the Praia do Futuro, at the end of Avenida Santos Dumont about seven miles from downtown. The straw huts that dot the beach offer snapper baked in salt, a local favorite, and crabs and oysters, all washed down with lots of cold beer. If that scene seems a bit too crowded, then try neighboring Caça and Pesca beach, at the end of Avenida Dioguinho.

After dark, the place to go is clearly Iracema beach, with its vibrant collection of bars, restaurants and music clubs, such as the Bar Pirata. A good starting point is the Centro Dragão do Mar, at number 81 on the street of the same name. There, visitors can dance to forró and toss down caipirinhas until the sun comes up.

Back to Top