Football in Natal
«Back to Home
«Natal: Culture





By football, we mean that sport which is practiced with a ball and feet; Americans call it soccer.

Like everywhere else in Brazil, football is the favourite sport in Natal.
Just walk along the beaches and you will see people disputing peladas (informal matches in which the rule is to have fun); go away to the suburbs and you will see people playing in any free terrain where they can put the goals.
The professional football in Natal is not very relevant in the Brazilian picture. The richer teams in the southern states have a better structure which allows them to hunt and find the best aspiring players, develop their potential and eventually profit on them.
Natal has three professional clubs: ABC Futebol Clube (official site is http://www.abcfc.com.br), America Futebol Clube (official site is http://www.americadenatal.com.br) and Alecrim Futebol Clube; almost everyone in Natal is a fanatic for either ABC or Natal.
The state championship in Rio Grande do Norte has 10 participants, ABC and America being the protagonists; click to see a list with all the clubs in the state, with links to each of them. Most championships were won by ABC or America; check all the champions of football in Rio Grande do Norte.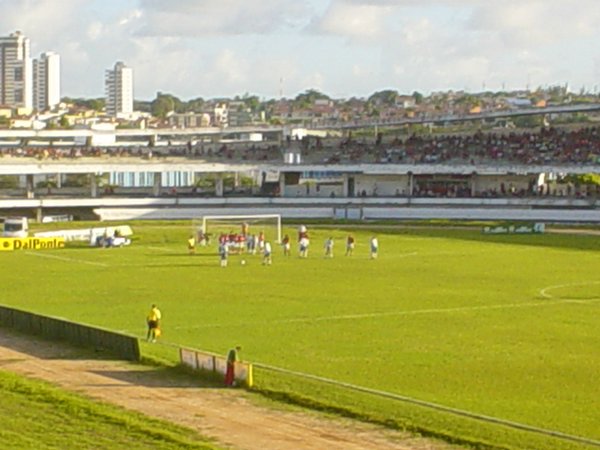 In the national scene (read the Football in Brazil section), teams from Natal are not so important. In 2005, both America and ABC played in the Third Division of Brazilian league; that means that the big teams (Flamengo, Santos, Vasco, Palmeiras, São Paulo, Cruzeiro) did not come to play in Natal.
Update 2006: America is now playing in the Second Division, whereas ABC remains in the Third Division. The Second Division is becoming more and more competitive each year (the Brazilian Confederation is reducing the number of teams in the First Division, from 24 in 2004 to 20 in 2006), which means that some important teams, such as Atletico - MG and Portuguesa, occasionally play in Natal).

The most important stadium in Natal is State owned Machadão; the name was given after the engineer who supervised the construction. Although frequently being under refurbishment, Machadão is old and uncomfortable; most seats are not numbered.
Going to Machadão is good fun, if you enjoy football; just take the usual cares: don't bring valuables, watch your pockets, stay away from the noisy crows. There is usually enough empty places to seat and have a good view. America and ABC have organized fan clubs, mostly young boys, who make lots of noise but are not violent. During the matches, lots of policemen are going about in Machadao (fair enough: the guys keep the place safe and enjoy the match for free).
In 2004, typical ticket prices were R$10 for adults and R$5 for students; minors up to 10 years old are free.
Update 2006: prices remain almost the same. See these photos of a football match in Natal.



For a very comprehensive coverage of football in Natal and Rio Grande do Norte, visit (in Portuguese only): http://www.futeboldorn.com.br.


See also: Football in Brazil

Back to Top