Making a living on the beach
Tribuna do Norte published a report today about people who make a living by selling stuff on the beach.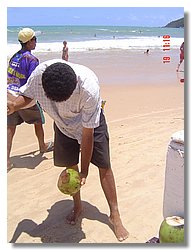 The newspaper interviewed several workers, and found out that most live in the outskirts of Natal, have little or no education, and resort to working on beaches for lack of other options.
Tribuna talked to authorities, and found out that there is no planning to change the situation by giving more assistance to the workers.
A few example of people working on beaches:
Wilson Dias, aged 60, came from Martins, a small city in the interior of Rio Grande do Norte, to make a treatment of stroke in Natal; after the treatment, he and his family decided to stay in the capital. He complements his retiring benefits by selling peanuts and cashew nuts in Ponta Negra; according to him, competition is growing, selling is harder and harder.
Anderson Felipe, aged 18, quit school when taking the first year in highschool. He sells coconuts in Ponta Negra, to help his mother and two younger sisters. His words: "It's been two years I've worked here. I arrive in the morning, go home at evening; I've been assaulted several times on my way back home. I push the cart about 20 km, covering Ponta Negra five times. Business is better during the high season and the weekends, but currently I've been making about R$ 10 a day."
Tribuna also mention cases of people who succeeded working on beaches.
Josefina Lima, aged 47, has been selling bikinis and beachware for 15 years; she says she built a small house and educated her kids.
In Redinha, Antônio Cruz, aged 30, sold sunglasses for ten years; now, he purchased a kiosk on the Mercado da Redinha (the public market space), and is proud to be an entrepreneur.
Read the original article by
Tribuna do Norte
(check out the link to photos gallery at the bottom of page).
Read more about
things to buy on Ponta Negra beach
.